My Story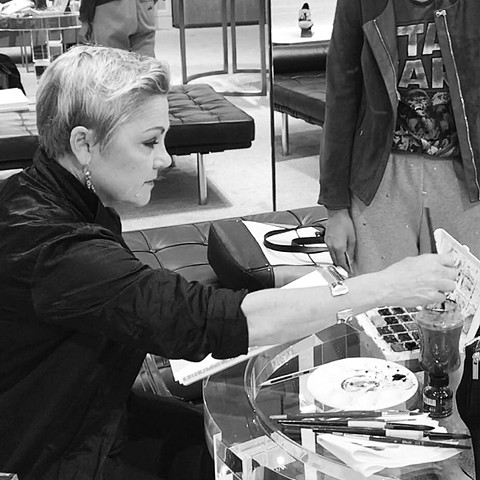 MY STORY Julie Johnson
I picked up a pencil at age two and drew a face – it had expression and made sense. Drawing became an obsession. At age 12, my dad got me the Famous Artists correspondence course from Westport, Connecticut. I attended a creative arts boarding school in Stockbridge, Massachusetts where I met Norman Rockwell and modeled for Clemens Kalischer. After high school, I took a gap year at 18, and moved to Florida to do portraits at Disneyworld and Busch Gardens. It was a tremendous boost to my self-confidence to know I could support myself at 18 with my art!
I wanted to be a painter and was accepted into the San Francisco Art Institute. Months before my freshman semester, the boy I was in love with (and thought I would marry) died in a car accident. I was devastated. I went on to attend SFAI but it was a miserable year. At 19 I felt I had nothing to say in my painting, and I was wracked with grief. There was a huge void between my life experience and getting it into my art. If only my professors had shown me how to make the connection. I was too young to figure it out on my own.
My dreams to be a painter went unrealized. It felt safer to apply to a commercial art school. I studied illustration with an emphasis on Fashion for the next four years to get my BFA. I moved to New York City and immediately I was doing ads for Bloomingdales in the NY Times. My career took off, I found an agent, and for over 30 years my work was internationally published and won international awards.
My style became recognizable, and my work appeared in books, ads, billboards, packaging, magazines, editorials. I worked with Oprah Winfrey, Diane von Furstenberg, L'Oreal – and many, many other clients.
During these years, I also worked as an beauty/cosmetics art director, graphic designer, fashion stylist and educator at the university level.
In 2014, I moved to Saudi Arabia after accepting a job to teach fashion at an all women's university in Jeddah. It broke my creative world wide open, as now everything was stimulating me visually, culturally, and spiritually. The painter artist in me wanted out. I wanted to express what I was experiencing in new work that was not commercially tied to a client. One of my earlier dreams in life was to get my Masters of Fine Arts degree. Now seemed the time to revisit this dream and goal. I started an MFA program in 2016 while still living in Saudi Arabia, which included summer residencies in Berlin.
In 2018, I graduated from Plymouth University in the UK under the Transart Institute for Creative Research with an MFA in Creative Practice. My body of work included paintings from Saudi Arabia, Oman, Greece, and Morocco. I had traveled and painted in all these places as research for my thesis which was based in portraiture. The inspiration I felt was off the charts. In spring of 2018, my contract in Saudi Arabia ended and a new offer came from Mexico.
I now live in Monterrey, Mexico where the colors, culture and traditions of Mexico are inspiring me anew.
My interest in Fashion has always been about the people who wear it. Fashion can be the black abaya (body robe), niqab (face cover) and tarha (head scarf) in Saudi Arabia – that's their fashion tradition – or it can be the flamboyant, colorful dresses of the Mexican rodeo women, the escaramuza, who ride in synchronized performances on gorgeous horses in traditional competitions.
My art is about people and places, and adornment - this is what inspires me most and what has always drawn me to fashion and illustrating clothing. How people choose to present to the world via culture, gender, age, identity, and socio-economic factors. How a sense of place is defined by shadow and light.
I love to do portraiture – and have done quite a bit of live drawing since my Disneyworld days. I do events for luxury brand openings, and have also gone into a small villages in Saudi Arabia and drawn the covered women giving them as gifts for sitting for me. I have painted the dishdasha, kumma-wearing men in Oman at the Sultan Qaboos Grand Mosque in Muscat and the feral cats on the island of Santorini in Greece.
The exchange between sitter and artist is an interesting one with roots in the ontology of being. I fully immerse in a place by giving it my full attention through the art that comes from that place through me. They are divine memories, using only my eyes and my hands to record with mark making on paper or canvas.
But my first love is fashion illustration for it's unlimited ability to inspire. There is a rich tradition of depicting the figure that pulled me into fashion illustration: Henri Toulouse-Lautrec, Henri Matisse, Gustav Klimt, Egon Schiele, Edgar Degas and Paul Gauguin.
For my personal archive of artwork, visit: