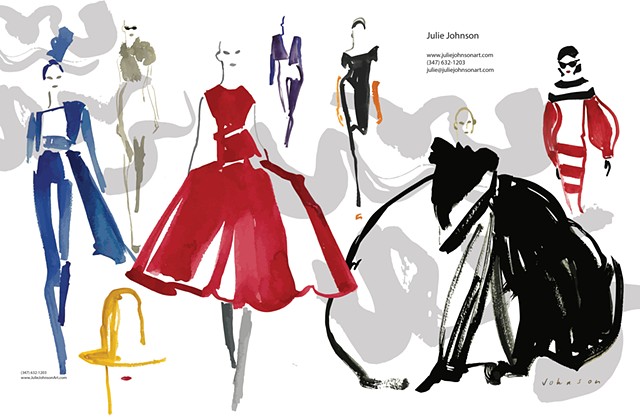 Julie Johnson is a widely published, award-winning fashion illustrator. Her illustrations have appeared in numerous international publications over the last 25 years for publishing, retail, editorial, packaging and advertising. (See Client List.)
Awards for her artwork include:
1984 Communication Arts Illustration Annual
1994 New York Society of Illustrators "Best of Fashion Illustration"
1999 Alumni of the Year, Academy of Art College San Francisco
2006 Society of Illustrators Illustration Annual
Julie's work has been exhibited in galleries in San Francisco, New York City, and Morocco and is in the personal collection of Oprah Winfrey.
Her fashion art has been featured in several different books in which she has been identified as one of the top fashion illustrators internationally:
2015 The Art of Fashion Illustration: Learn the techniques and inspirations of today's leading fashion artists, by Somer Flaherty Tejwani, Rockport Publishers
2012 Fashion Drawing, by Michele Wesen Bryant, Laurence King Publisher
2011 The Bigger Book of Fashion Illustration, by Martin Dawber, Batsford Publisher
2010 The New Age of Feminine Drawing No. 2, All Rights Reserved Publishing, Hong Kong
Julie does customized, live fashion illustration for luxury brand events, openings, and corporate parties, providing bespoke artwork on the spot, engaging the customer and raising the profile of the brand.